Retaining Walls La Jolla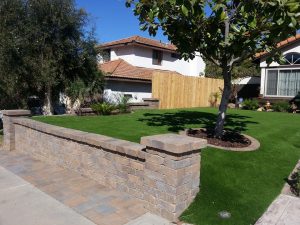 We do more than install paver patios, walkways and driveways. There are so many things you can do to improve your outdoor living space and we can help. Hardscape features such as retaining walls are a great way to improve the landscape of your home, create more space or turn an unusable area into a beautiful, functional garden or patio.
Retaining Walls
Retaining walls are built with special stacking bricks, which slope away from the front of the wall. As with brick pavers, there are many choices in colors, styles and patterns for retaining walls making it easy to create a feature that will showcase your individual style. Your new retaining wall can become the focal point of your landscaping, increasing the beauty of your outdoor living space and creating that wow factor it may be missing. It can turn your landscaping into a functional work of art. Retaining walls can help you separate gardening areas, create beautiful terraces or manage and control the current landscape. Retaining walls can use the natural slopes of your yard to enclose an area or you can use them to level off a particularly steep slope. Retaining walls can be built to your specifications whether you are looking for something small for a garden area or something bigger for a terrace or slope near your home. They are an economical solution to problem yards with unusable space or strange shapes. When you are thinking about adding a retaining wall to your landscaping consider the professionals at QTC Landscape Construction. With our keen attention to detail and over the years in the business you can depend on QTC Landscape Construction to do the best job possible. We use only high quality products from the best manufacturers in the state.